10th International Biomedical Research into ME Colloquium 2020
#BRMEC10
28 - 29 May 2020
BRMEC10
The Invest in ME Research Biomedical Research into ME Colloquium 10 (#BRMEC10) will take place in London over two days from 28th - 29th May 2020.
The tenth Colloquium aims to increase international collaboration in research into ME.
We again hope to have representation from most of the main biomedical research initiatives occurring throughout the world and also participation from USA's Centers for Disease Control (CDC) and National Institutes of Health (NIH). We supplement this with expertise from outside the field of ME to enable more opportunities to be established to further research.
The Invest in ME Research Colloquiums have spawned a number of positive initiatives over the years and are the most successful research meetings for forming new research initiatives for ME with multiple collaborative initiatives being formed across continents.
The research Colloquium in London will precede the IIMEC15 annual public international biomedical research conference on 30th May 2020. The conference is a full day event from 09.00 to 17.00.
The agenda section below will contain details of the Colloquium schedule as it is filled.
Participation in BRMEC* Events
Participation in BRMEC* Events
If you are a biomedical researcher and are interested in attending the BRMEC* Colloquiums then please use our contact form to discuss this.
Attendance is by invitation only and decided by the charity. We are interested in progressing our goals of encouraging international collaboration in investigating this disease which will lead to discovery of aetiology and/or deveoplemnt of effective treatments.
We also invite participation from outside the field of ME where it may assist existing researchers.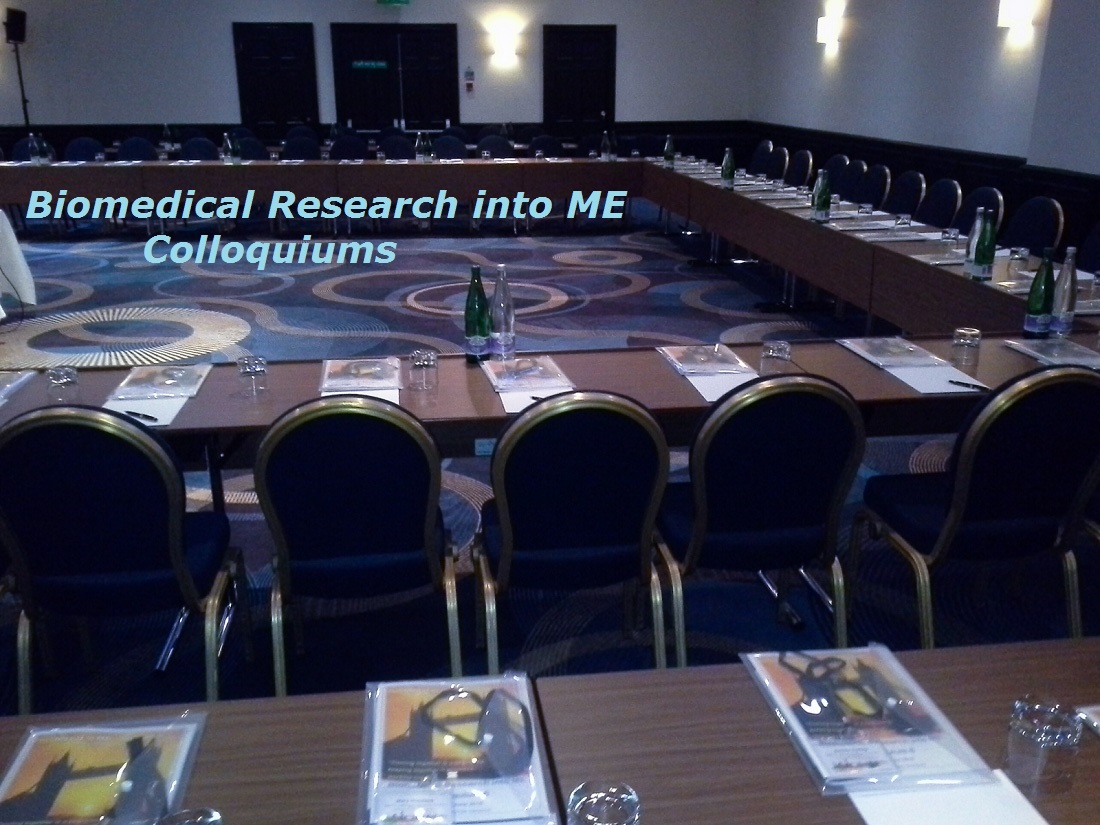 The Colloquium is by invite only in order to create the best possible atmosphere for encouraging international collaboration and sharing of ideas.
Largest ME Research Colloquium
The Colloquium sees the largest gathering of the world's biomedical researchers for ME in London with excellent opportunities for networking amongst peers.
World's Leading ME Researchers
The most relevant biomedical research intitiatives plus other research disciplines sharing knowledge
Developing Foundations for Research
Unique networking between researchers, clinicians and students
BRMEC10 Colloquium Agenda 2020
Invest in ME Research Activity - Mainstreaming Research into ME
The charity does not only arrange and host research Colloquiums and Conferences.
Use our website references in the links below to view other work performed by Invest in ME Research.
We welcome support to enable us to build and sustain a strategy of high-quality biomedical research into ME.
To support our work in developing a Centre of Excdellence for ME research please see this link .
Contact Invest in ME Research